Introduction
This post is part of a series of posts I'm writing about Lab Safety. Throughout my time as an Amateur Chemist I've come to the opinion that Lab Safety is greatly exaggerated and many times misunderstood. With this series of posts I hope to put an end to this sort of sensationalist propaganda that chemistry is dangerous and that chemicals try to kill you every time you turn your back on them.
On this particular post I am going to address common safety gear.
Personal Safety Equipment
Gloves are probably the most common safety gear the Amateur Chemist uses. They are designed to protect the user's hands against corrosive, toxic or otherwise harmful chemicals.
There are many types of gloves that can be used in chemistry. The most common materials are Latex, Vinyl, Neoprene and Nitrile. Most of these types of gloves come in packs and are meant to be disposable. This might be costly for the Amateur Chemist.
Instead, regular Household Cleaning Gloves may be used. They are resistant to most acids and bases and give adequate protection with most chemicals found in a general lab. Besides, they aren't meant to be disposable. Thus, you can use these gloves many times instead of having to get a new pair each time.
With that being said, one of the most chemically resistant gloves are the Nitrile type. Notoriously, in spite of being quite resistant, they cannot be used while handling Nitric Acid.
My recommendation goes for the regular Household Cleaning Gloves. Besides being cheap and resistant they usually cover a bit of the arm too, which gives extra protection.
Latex Gloves:                                            Nitrile Gloves:                                           Household Cleaning Gloves:
Goggles are another common piece of safety gear in the lab. Despite being so common and important, many people can't distinguish the right goggles to use in a chemistry lab. Actually, many labs don't even have the correct type.
These goggles shouldn't be used in a chemistry lab:
These goggles should be used in a chemistry lab: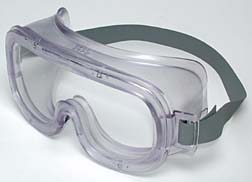 So, what's the difference? The first ones are meant to protect the eyes from small particles and debris. They are used, for instance, when cutting steel. Many factories require their workers to use this type of goggles when moving around the machinery.
The second image shows the actual laboratory safety goggles. They are meant to protect your eyes in worst case scenarios: splashes.
Let's say some drops of Sulfuric Acid are traveling through the air at high-speed and your eyes happen to be on their path. Both types of goggles will protect you from some serious injuries to your eyes. Now, imagine that, instead of just a few drops, a splash occurs. It goes right into your face. You will probably burn your face pretty good, but your eyes will be intact if you use image 2 goggles. If you use image 1 goggles the acid can reach your eyes easily, simply by dripping from your forehead, for example.
So, to conclude, always wear goggles identical to the second image.
Face Shields are designed to protect its user's face. Not just the eyes, the entire face. They should be used when there is high risk of splashing of corrosive or toxic chemicals. Some more dramatic demonstrations, for instance, require their use.
This is a picture of an actual Lab Face Shield:
This kind of item tends to be pricey and might not be easy to find for the Amateur Chemist. A good alternative to regular Face Shields are Welding Helmets like this one: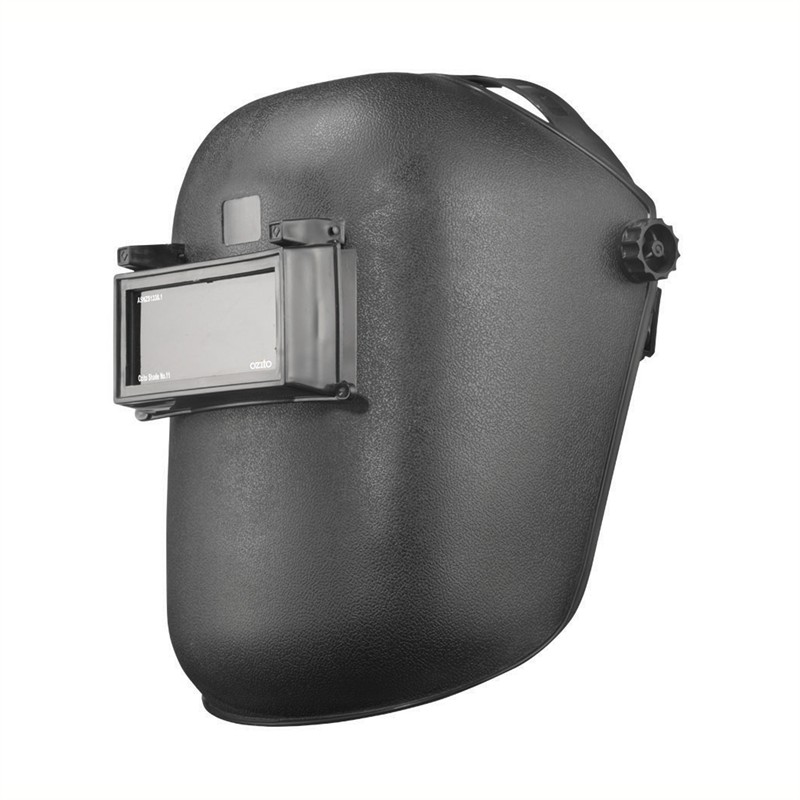 The simpler models are much cheaper than an actual Face Shield. Besides, they are a lot easier to find. Any store with welding equipment sells these masks. On the downside, they only have a small visor for you to see. I find this more than sufficient, but it is just my opinion.
Gas Masks are used to protect its user from toxic airborne particles or gases. I don't think Gas Masks are needed if one already has a Fume Hood or can work in a very well ventilated area. However, in some cases, Gas Masks may be necessary. They are also a good emergency item to have around in case of an uncontrolled (and hopefully predictable) generation of toxic gases/fumes.
There are masks that also protect the eyes and masks that don't (these are called respirators).
Respirator:                                                  Gas Mask:
Note: There are also very simple, disposable, respirators whose only function is to protect against airborne particles:
Gas Masks are, obviously, better than Respirators because they give additional protection. However, they're more expensive and harder to find.
More important than that, is the type of filter. The filter is the part of the Mask/Respirator that actually does the job of protecting you from harmful gases. They should be replaced now and then. There are a lot of filter types, each one designed to protect the user from certain gases. Here is a small list of the most common types and the gases they are designed for:
Type A – Certain organic compounds with High Boiling Points (>65ºC). This mostly include volatile solvents.
Type AX –  Certain organic compounds with Low Boiling points (<65ºC). This mostly include volatile solvents.
Type B – Certain inorganic Gases. This includes Chlorine, Bromine, Hydrogen Cyanide, Hydrogen Sulfide. Depending on the manufacture, some of these gases may be covered by type E, instead.
Type CO – Exclusive for Carbon Monoxide.
Type E – Certain inorganic acidic gases. This includes Hydrogen Chloride, Nitric Acid, Sulfur Oxides, Nitrogen Oxides. Depending on the manufacture, some of these gases may be covered by type B, instead.
Type K –  Ammonia and organic ammonia derivatives. This includes Ammonia itself, Methylamine, Ethylamine.
Type Hg –  Exclusive for elemental Mercury vapors. Type Hg-P3 is the same but with an additional particles filter.
P1, P2, P3 – Exclusive for airborne dust and particles.
There are additional types out there, but these are the most common. It should be noted that, nowadays, many filters combine different types for addition protection.
Thermal Gloves isn't an actual name for a specific type of safety gloves. It's just the name I call gloves designed to protect from hot surfaces. This can include hot glassware, for instance. In these cases, cotton gloves are very effective:
Some work in the lab might involve very hot surfaces, like hot metals, hot crucibles, etc. Welding gloves don't allow as much mobility as cotton gloves but they endure much higher temperatures:
Well, I saved the more controversial item for last: the Lab Coat.
So, what should the Lab Coat be used for? It should be used to protect one's body against harmful chemicals. Or, at the very least, protect one's clothes from harm. However, Lab Coats designers stopped worrying about this. Instead, Lab Coats have become a symbol of a scientist/chemist. They aren't meant to be safe anymore, they're meant to be stylish. Apparently, in many "Lab Cultures", one must always wear a Lab Coat because it makes him a Chemist. After all, a chemist without a Lab Coat can't be called a chemist. This makes sense, doesn't it? Of course not.
So, let's start by the first ridiculous case:
So, why is this ridiculous? Let's remember: what is a Lab Coat used for? Safety, of course. Imagine that some solvent caught fire and now my coat is on fire. What do I do? I take it off as soon as I'm able. Now, imagine that some Sulfuric Acid landed on my coat. What do I do? I quickly take it off so the Acid doesn't reach my clothes/skin. What do I do if I get some really nasty toxic chemical in my coat? Again, I remove it like it is cursed!
I think you're already getting the point. A good Lab Coat must be easily removable in case of emergency. The first two pictures display coats with buttons on the back. So, if I catch fire, I must first ask my labmate to help me take it off. Yes, he will be more than willing to help!
The last picture displays a coat with buttons on the side. A normal case of fashion first, safety second. Seriously, I would like to watch someone with Nitric Acid splashes on that coat trying to remove it before it reached their skin. Indeed, funny stuff.
Actually a good Lab Coat shouldn't even have buttons, like this one:
I believe these things replacing the buttons are called grippers. They allow for a must faster "emergency take-away".
To conclude, the lab coats mentioned above make dangerous situations even more dangerous. They are disguised as safety equipment but are only good for show-off fashion or to be included in the general toy nursery kit.
The second consideration are the sleeves. A good lab coat cannot have hanging sleeves. They must have cuffed sleeves: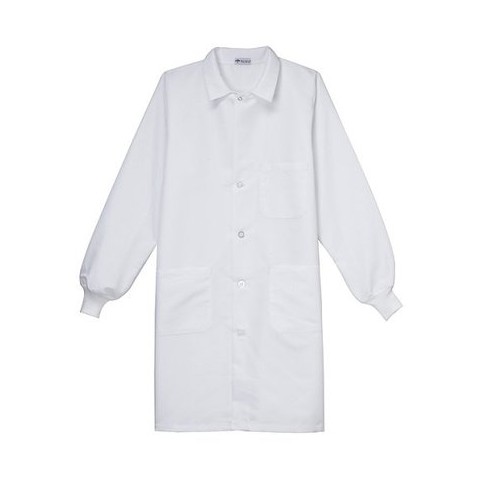 Now, the third consideration. Most lab coats are just made of regular cotton. They don't have any specific material that makes them chemical proof. This means that some nasty splash may ruin your lab coat. Of course, you and your clothes are safe. But, what is the cheapest/most comfortable? Wear old clothes when in your lab or wear a lab coat? Cotton old clothes do exactly the same job protecting you as does a regular lab coat. Difference is, you're more willing to ruin that old sweater than your brand new lab coat. It must be said, though that a good lab coat may allow for a faster emergency take off than regular clothes. Might be one of the few advantages.
Considering everything I already stated above, I honestly believe the best choice to be a plastic apron. Whenever you're going to handle nasty chemicals, you just put it on. They are much more impervious to chemicals and are much cheaper. They are also very easy to remove in case of emergency.
Conclusion: If you prefer lab coats wear one with the specifications mentioned above. If you prefer regular clothes, just use regular clothes. In both cases, a nice plastic apron is recommended.
Facilities Safety Equipment
Fire Extinguishers are designed to quickly and effectively put out small fires. I wouldn't consider them as a mandatory item for a Lab, though. If you know what you're doing, then you will know what reactions may pose a fire hazard. In these situations I trust myself to already have contingency plans. However, it is always better to have one Extinguisher in the lab for the situations you can't easily predict.
I always recommend the Carbon Dioxide kind. They're good for most fires in the lab (they cool the fire and remove the oxygen) and they do not make a mess nor ruin all your work. They are, however, a bit more expensive than regular dry powder extinguishers and might also be harder to find.
Note: It is also good practice to have additional fire protocols while doing reactions that are a fire hazard. In such situations, a metal bin with a layer of sand is great to have around. Should a beaker catch fire, for instance, you can through it in there and allow the all thing to burn safely. A metal bin with water is also a good idea if water can be used to extinguish the fire.
There is no need for a professional Safety Shower in most labs, in my opinion. However, it is good to have a way of quickly putting water on you in case of emergency (like if you caught fire or have some nasty corrosive chemical on you). What I recommend is something like this:
You can install it right in your water tap or your closest water source. If something goes wrong you just open the tap and wash yourself.
Note: More specific types of equipment, like spill kits, are going to be discussed in future posts about Lab Safety.
Final Notes
I hope this can serve as a guide to allow for a nice safe lab. If you believe I left an important item/topic undiscussed, please say so. As always comment and leave some feedback.